Thirty Dart 18s entered the first Travellers Trophy meeting of the 40 Years of Dart Anniversary season despite a very unfriendly weather forecast over the Easter weekend. Good Friday dawned to cool sunshine and a force 2-3 from the west, but as the fleet launched this dwindled to nothing and after a fruitless 90 minutes drifting the Race Officer called time and sent the fleet back to shore. As is always the way some 2 hours later the wind returned, but too late for the tide! The sailors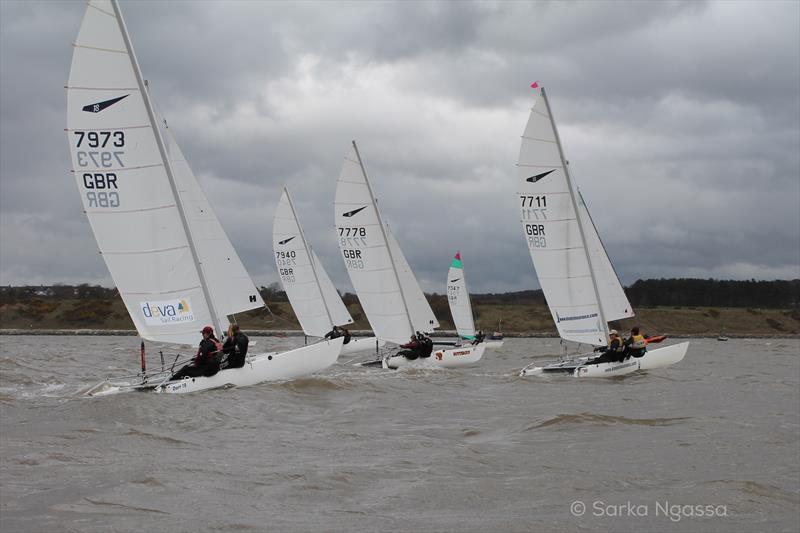 retired to the bar and later to an excellent Thai meal at a local restaurant, followed by a live band Eden back at the club with music until late.
Saturday saw the wind shift to the South East at 18-20 knots, which against the strong tide threw up a very lumpy chop. After an hours delay the Race Officer started a race for the strong wind experts over a windward/leeward course. Several capsizes and one mast breakage led to only 7 boats recordin
g a finish, with locals James & Alison Douglas (Dee SC) overtaking David Lloyd & Mark Stones (SBSC) around the final Leeward mark to win, with Simon Moruzzi & Isabella Martindale (Dee SC) third. With wind now kicking up to 30 knots and big gusts, the Race Officer made the sensible call and sent the boats ashore. Another legendary Dee social followed with a second live band Xebra getting everyone dancing following a chilli con carne cooked by the club volunteers.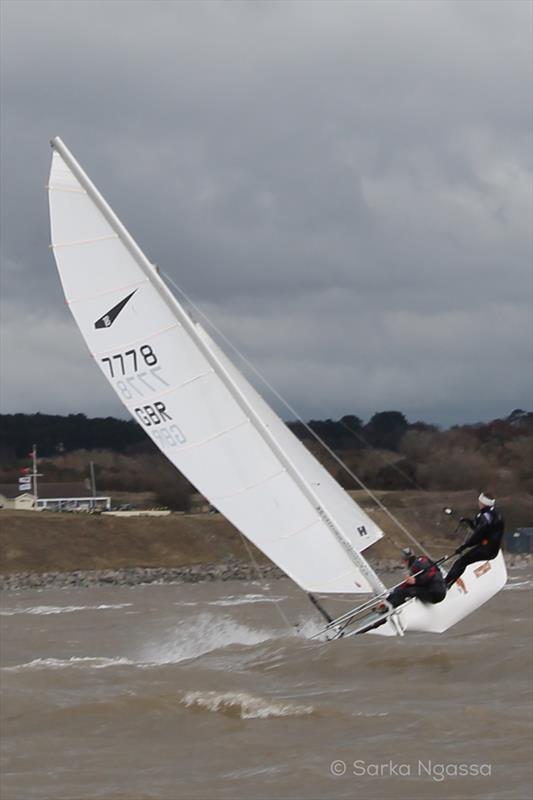 Sunday morning, and promising conditions at 9am changed as boats were rigged, and by the 11am launch time the wind was gusting up to 33 knots with squally rain mixed in. With the wind forecast to rise further the inevitable decision to abandon the days racing was made. This decision was proved to be correct as an hour later a 50 knot squall blew across the club!
So three days scheduled racing saw only one race, but travellers from as far away as Scotland and Cornwall still had a great weekend as the club maintained its reputation as one of the friendliest venues on the circuit. Overall results saw James & Alison Douglas take the event trophy for a second time, with David Lloyd & Mark Stones second, and Simon Moruzzi & Isabella Martindale third. The UKIDA handicap prize was won by Darren Wood & Alizee Malavart (Island YC) with Barry Peters (bravely sailing single handed!) from Datchet Water second.
Congratulations to the prize winners, and thanks on behalf of all the fleet to all the club volunteers who helped make this such a great event despite the weather. The fleet now moves on to TT2 at Netley SC near Southampton and then the UK Dart 18 Nationals at Stokes Bay SC over the late May bank holiday weekend – an event not to be missed.
Overall Results: (top five)
1st 593, James & Alison Douglas, Bogtrotter II (Dee SC)
2nd 7711, David Lloyd & Mark Stones, Dinghyinsurance.com (SBSC)
3rd 7973, Simon Moruzzi & Isabella Martindale, Deva Sail Racing (Dee SC)
4th 7940, Kenny Watson & Drew Young (Royal Tay YC)
5th 6434, Lee Mathews & Chantelle Neighbour, Screaming Donkey (Dee SC)