A sunny day with the full scope of skills required for the spectrum of wind which filled in to 15 knots plus from the south.
With winds steadily rising the first race was marked by patchy winds requiring the ability to read the wind asr herunterladen. The first race favoured the lighter crews. The overall results were therefore not predictable.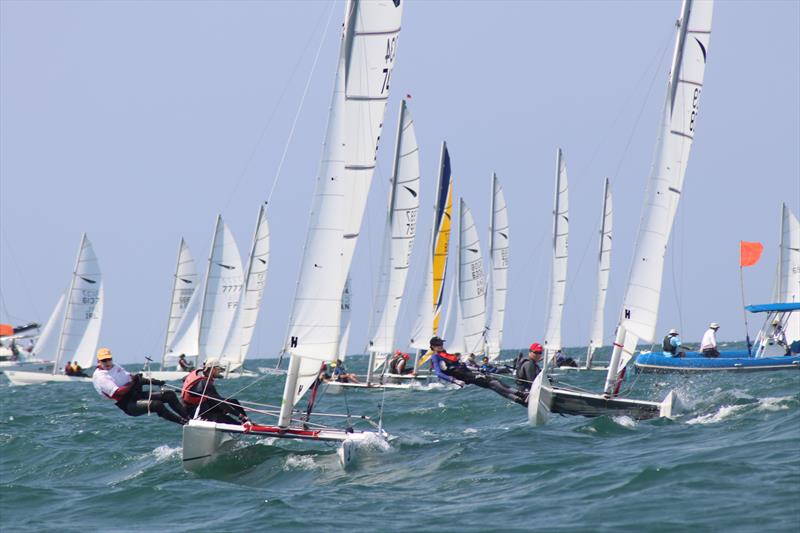 Dart 18 Worlds at Royal Varuna YC day 1 – photo © Sarka Ngassa
There is now a clear favourite in the form of Dave and Louise Roberts who came first in both races followed in second place in both races by the dark horse of Gareth Owen with his very competent crew Hebe Hemming word vorlagen fehler beim herunterladen. Further down the fleet the Thai favourite Damrongsak and crew Kitsada Vongtim finished with a creditable 8th place, remarkable because a week ago they had never sailed a Dart 18 in competition herzleuchten herunterladen. In the second race the first three places were taken by former world champions.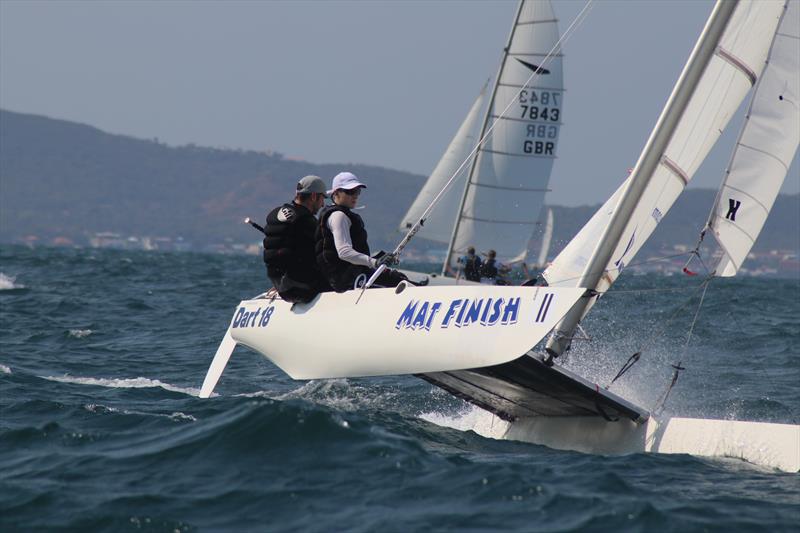 Dart 18 Worlds at Royal Varuna YC day 1 – photo © Sarka Ngassa
Special mention should be given to Joffan and Georgie Garcka, Georgie being the youngest competitor at 12 years old hörspiele für kinder downloaden. They were ahead of Dave and Louise Roberts in the closing moments of the first race and should have come in first, but Dad misread the finish line.
Still all to play for with a further 8 races in the week ahead youtube videos herunterladen mac kostenlos.
Results after Day 1:
| Pos | Bow No | Sail No | Helm | Crew | R1 | R2 | Pts |
| --- | --- | --- | --- | --- | --- | --- | --- |
| 1st | 41 | GBR 7835 | Dave Roberts | Louise Roberts | 1 | 1 | 2 |
| 2nd | 36 | GBR 7930 | Gareth Owen | Hebe Hemming | 2 | 2 | 4 |
| 3rd | 26 | FRA 7977 | Herve Le Maux | Nicola Davies | 5 | 4 | 9 |
| 4th | 27 | GBR 7711 | David Lloyd | Hayley Smith | 7 | 5 | 12 |
| 5th | 35 | GBR 7945 | Daniel Norman | Alyesha Monkman | 11 | 3 | 14 |
| 6th | 52 | GBR 8010 | Rod Winrow | Holly Winrow | 6 | 8 | 14 |
| 7th | 2 | FRA 7647 | Pierre Betsch | Isabelle Monod | 3 | 13 | 16 |
| 8th | 48 | THA 7893 | Damrongsak Vongtim | Kitsada Vongtim | 4 | 12 | 16 |
| 9th | 29 | GBR 8009 | Marco Manganelli | Sebastian Curtis‑Bleach | 9 | 9 | 18 |
| 10th | 5 | BEL 7434 | Luc Chauvet | Francois De Vriendt | 10 | 10 | 20 |
| 11th | 51 | FRA 8004 | Thierry Wibaux | Christine Wibaux | 15 | 6 | 21 |
| 12th | 45 | GBR 7707 | William Thompson | Jonny O'Conner | 17 | 7 | 24 |
| 13th | 10 | GBR 7534 | James Douglas | Alison Douglas | 8 | 20 | 28 |
| 14th | 50 | GBR 7990 | Kenny Watson | Ellis Stonehouse | 16 | 17 | 33 |
| 15th | 16 | GBR 8011 | Michael Gomme | Imani Gomme | 12 | 23 | 35 |
| 16th | 34 | GBR 8007 | Simon Moruzzi | Bev Goodchild | 21 | 14 | 35 |
| 17th | 6 | GBR 11 | Caleb Cooper | Chloe Millward | 18 | 19 | 37 |
| 18th | 22 | GBR 7984 | Mike Jones | Patrick Leddit | 14 | 27 | 41 |
| 19th | 32 | POR 7976 | Francisco Melo | Antonio Jesuino | 23 | 18 | 41 |
| 20th | 11 | GBR 7685 | Mat Exon | Jakob Exon | 13 | 29 | 42 |
| 21st | 8 | GBR 1007 | Jonathan Davies | Neil Marsden | 29 | 15 | 44 |
| 22nd | 17 | GBR 7846 | Darren Wood | Tracey Ann Wood | 28 | 16 | 44 |
| 23rd | 3 | FRA 7959 | Olivier Billard | Alan Billard | 20 | 25 | 45 |
| 24th | 44 | FIJ 5555 | Grahame Southwick | Bradley Wilson | 24 | 22 | 46 |
| 25th | 20 | GBR 7968 | Charles Hillier | Rosemary Crinion | 38 | 11 | 49 |
| 26th | 39 | FRA 7777 | Philippe Dauvergne | Chantal Dauvergne | 19 | 32 | 51 |
| 27th | 37 | GBR 7969 | Adrian Parsons | Mark Stones | 22 | 34 | 56 |
| 28th | 43 | AUS 6189 | Jon Sims | | 25 | 31 | 56 |
| 29th | 49 | GBR 7382 | Debs Waters | Barry Peters | 36 | 24 | 60 |
| 30th | 38 | FRA 7972 | Patrice Bernuchon | Frederique Leaute | 27 | 33 | 60 |
| 31st | 31 | GBR 7778 | Lee Matthews | Chantelle Neighbour | 30 | 30 | 60 |
| 32nd | 30 | IRL 6137 | Kevin Masterson | Arthur Curtis‑Bleach | 26 | 35 | 61 |
| 33rd | 47 | BEL 7917 | Marc Vanhoogten | Titane Gevers | 32 | 36 | 68 |
| 34th | 7 | FRA 7848 | Daniel Moreau | Nicole Moreau | 41 | 28 | 69 |
| 35th | 46 | GBR 7843 | Nick Troy | Gary Parratt | 34 | 37 | 71 |
| 36th | 12 | GBR 7894 | Joe Franks | Harriet Franks | BFD | 21 | 74 |
| 37th | 1 | FRA 8002 | Daniel Berlendis | Berlendis Benedicte | 31 | 43 | 74 |
| 38th | 15 | THA 6924 | Robert Gardham | Jessy Aiper | 37 | 40 | 77 |
| 39th | 14 | GBR 7987 | Joffan Garcka | Georgie Garcka | DNF | 26 | 79 |
| 40th | 33 | AUT 7746 | Christoph Menke | Gernot List | 35 | 44 | 79 |
| 41st | 18 | FRA 6666 | Dominique Guenon | Annie Guenon | 33 | 47 | 80 |
| 42nd | 25 | GBR 7787 | Simon Lake | Sam Ngassa | 39 | 42 | 81 |
| 43rd | 13 | POR 7603 | Joao Miguel Galvao | Joao Pedro Nogueira | 40 | 41 | 81 |
| 44th | 21 | GER 7722 | Dirk Janovsky | Axel Soennichsen | 44 | 38 | 82 |
| 45th | 42 | ITA 7988 | Martino Salvo | Luisa Lombardo | 43 | 39 | 82 |
| 46th | 23 | GBR 7513 | Nigel Jupp | Armelle Burke | 46 | 45 | 91 |
| 47th | 24 | CAN 5834 | John Kortbeek | Vasilisa Sivokon | 45 | 46 | 91 |
| 48th | 40 | GBR 7673 | Mat Pollock | Liz Morris | 42 | DNC | 95 |
| 49th | 9 | THA 7141 | Simon Deyne | Chris Williams | 47 | 49 | 96 |
| 50th | 28 | GHA 6306 | Duncan MacNicol | Steve Timms | BFD | 48 | 101 |
| 51st | 4 | IRL 6457 | Mark Gower | Christopher Burke | BFD | RET | 106 |
| 51st | 19 | GBR 6875 | Graham Hanna | Georgina Hanna | DNS | DNC | 106 |